A lot of people don't bother with wristwatches these days, preferring just to look at the clock on their phone. Well, not me, if only because I struggled for so long to tell the time from a clock face (well into primary three) that I'm loath to give up the hard won practise now. So when my Swatch Skin Chrono 'Outrage' finally went haywire a few months ago, I hunted around for a replacement. I graduated from uni in June, and still don't have a job, so price was a major consideration. Also, I felt like a change, and went for a mechanical movement instead of quartz this time.
Anyway, without further ado, here's my take on Jaragar's 'Casual C1' wristwatch. This is a mechanical, self winding watch.
... was pretty painless. I bought this Chinese watch from an eBay shop based in Hong Kong, "lucky123shop". Postage was 9.99 US Dollars, so I was pretty surprised when a small package from "Lucky Time" arrived here in Scotland just 7 days after payment.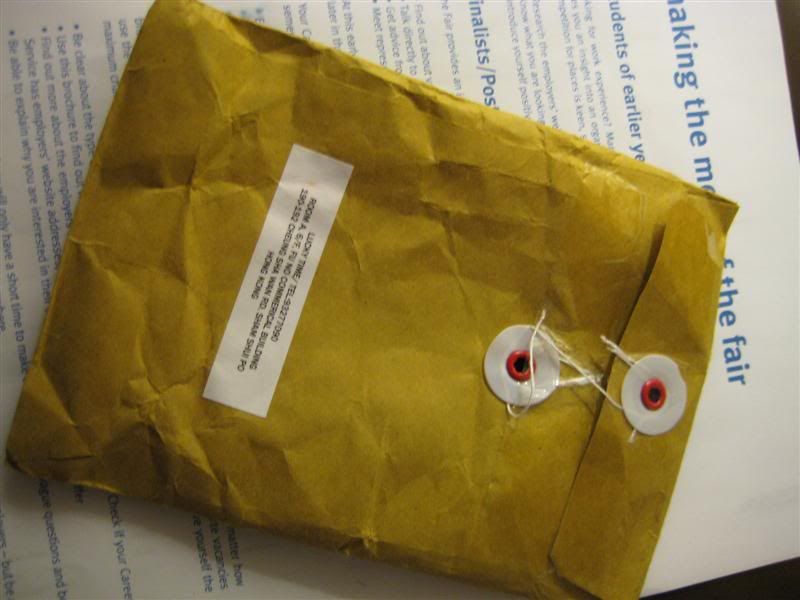 Packaging was pretty light; a small envelope, some bubble wrap. There was no box or instructions.
One thing that puzzled me, on opening the packet, was that I couldn't get it to start after winding or shaking. Then it seemed to start by itself! Subsequently, I have left it for days to run down, and then wound the crown a couple of times or shaken the watch, and it starts up straight away.
This is my first self winding watch, and the glass case back showing the winding plate moving around was a neat touch. The smudge on the bottom left of the photo is inside the glass by the by.
The other initial aspect that held my attention was the thickness of the timepiece, but I knew anything after the Swatch was bound to be more 'man sized'.

Looks
There's a lot I like about this watch. Visually, it couldn't be further away from the usual direction inexpensive Chinese watches take – lots of silver rings, huge cases, the kind of thing that fills pages and pages of eBay listings. The white hands and strap stitching are set in contrast against a black face – more gloss than matte - , black case, black crown, black buttons and black 'leather' strap. The overall image of is purpose and understated cool.
In these photos, I've paired the watch up with Hero's 850 fountain pen, another Chinese product I think shares a similar aesthetic.
The Jaragar C1 wristwatch, with a Hero 850 integral nib fountain pen.
The strap stitching - which looks like nylon or something similar - to the bottom right of the face is finished off a little crudely.
The shot below was supposed to include the sturdy, satin steel buckle, but doesn't quite make it :/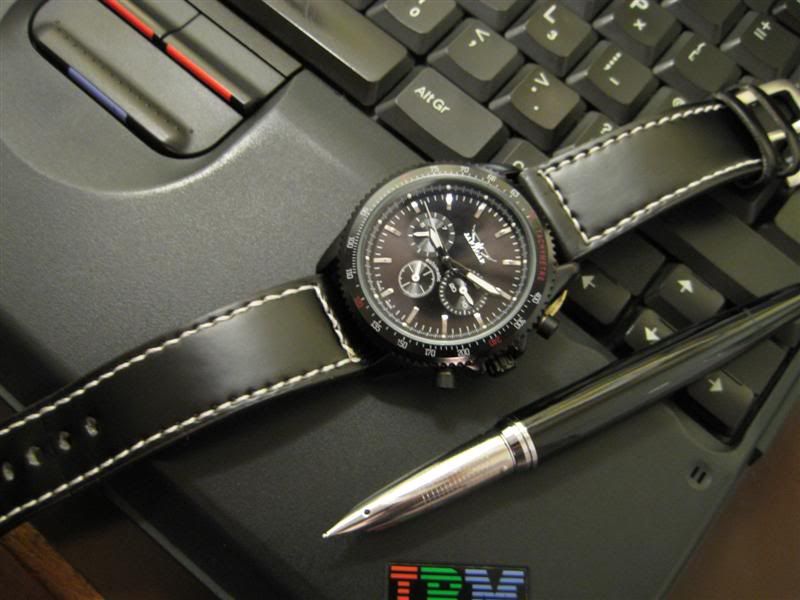 The complications, from left to right, are day of the week (strange that there are superfluous marks between them), a 24 hour indicator, and the date of the month. None of them seem to be off centre, and they all work.
The date pointer is slightly off I would say, but at least when it hits midnight, the 24 hour dial is bang on the vertical – I have a different model Jaragar that is way off. The printing on the face and bezel looks fine, the glow-in-the dark spots are just slightly out of place.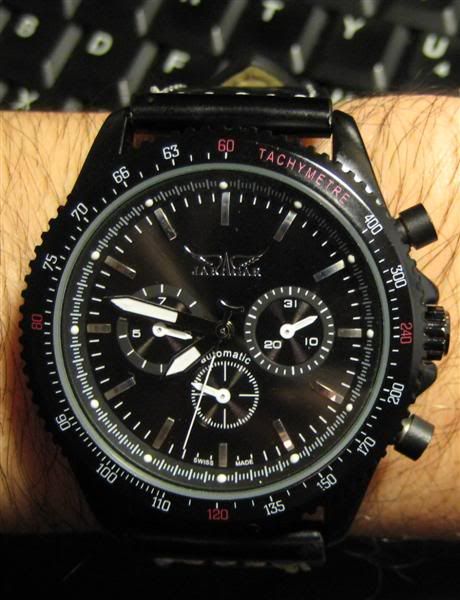 Notice the "swiss made" mark at the 6 o'clock position – I wish the Chinese manufacturers would stop this kind of thing, it adds nothing at all to the watch. Personally speaking, I'd find it far more interesting if it said "wuhan province" or wherever it was really made.
The second hand is the type that sweeps rather than hacks. By the way, isn't the second hand supposed to stop when I pull out the crown? At the moment, I'm finding it hard to set the time when the second hand carries on regardless!
Time Keeping
After wearing the Jarager a few days, I noticed it was running a little slow. To see how slow, I got out my mp3 player and synchronised the watch as best I could to 7.30pm. For the next few days, I compared the watch and the mp3 player to get an idea of the Jaragar's accuracy.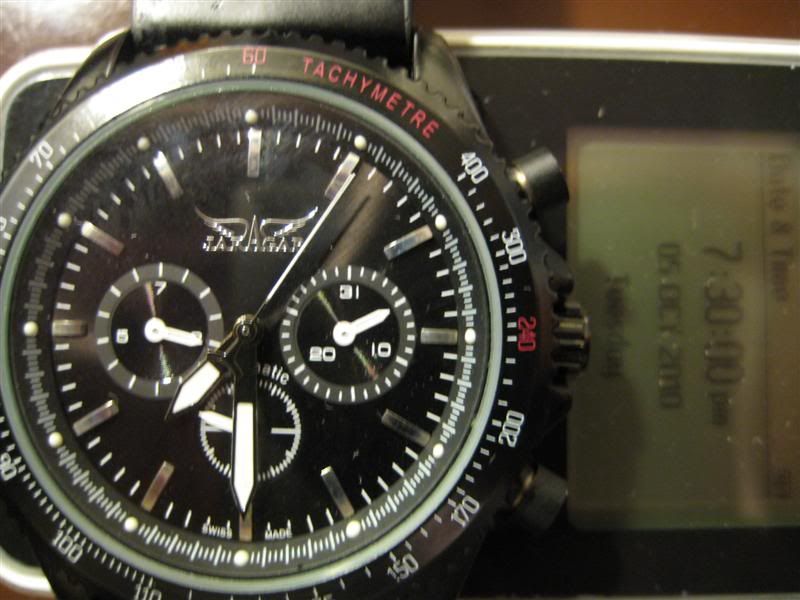 October 6th: Looks about a minute slow...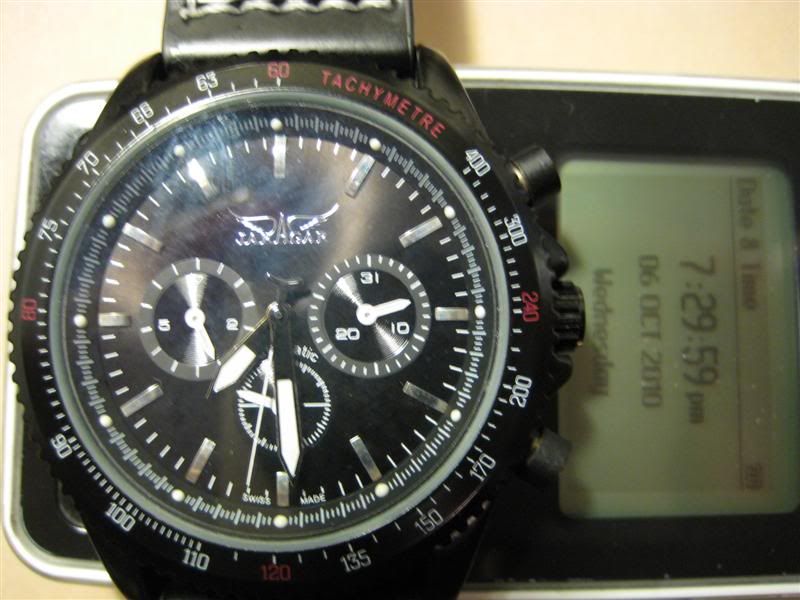 Still October 6th: Yes, its a minute slower than the zen micro.





October 7th: Hmm! It's still slow, but seems not to have lost time since the previous evening?







Build Quality


Compared to my last mechanical watch, the Jaragar has a solid feel. No odd ticks or clunks are apparent when shaking it. There's no vagueness when pressing the buttons, just a 'click' with minimal resistance. Setting the time, the hands and crown glide around very smoothly. Even the strap is pretty sturdy and surprisingly good looking. If it's real leather, I think it's one of the cheaper kinds.
Here's a macro shot of a scuff I don't remember causing (next to the lug on the right in this photo):
Value
The total price of this Jaragar was 20 US dollars, and to my mind its a good deal. In fact, my brother took one look at it, and wants one too. I'd like to have a go at regulating it to run a little faster, after discovering the amazing 'ball of blu tack' case opening trick courtesy of an old watchuseek post by Quoll.


If anyone has advice on regulating the watch, I'm keen to hear it!
All said and done, I can safely recommend the Jaragar model C1 (the C3 is less good looking) and the seller. At these prices, I'm happy enough with it to have bought another Jaragar self winder, this time more of a dress watch: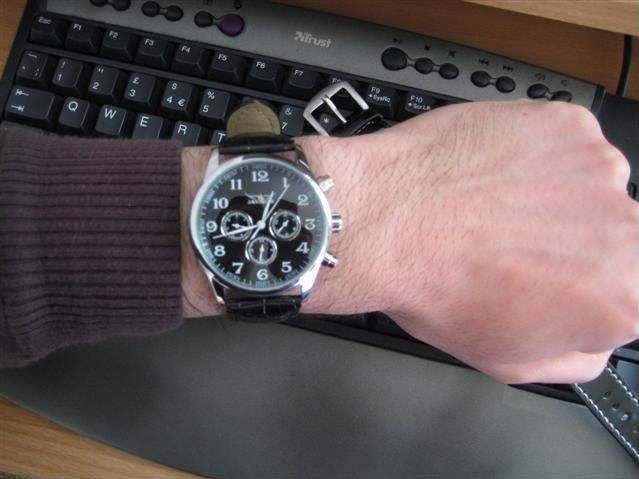 I'll review it after a bit more wear - it seems to keep time very accurately so far.