Oh well. My batting average seemed to be pretty poor so far, but undeterred, I tried to install my web browser of choice,
Opera
. I selected 'Software Centre' then searched for 'Opera'. 0 matching items. Alright, 'Get Software' - 'Internet' - 'Web Browsers' - search for 'Opera'. 0 matching items.
Is Opera really that unpopular? It runs far more smoothly on my T23 than firefox does. Feeling a bit deflated, using firefox I went to Opera's website and downloaded the linux 'deb' file. The Ubuntu software centre recognised the file and took over, then stopped working. I tried to close it off after a while, and got a Windows style 'Not Responding' error. This is not the kind of stability issue I had expected from Linux.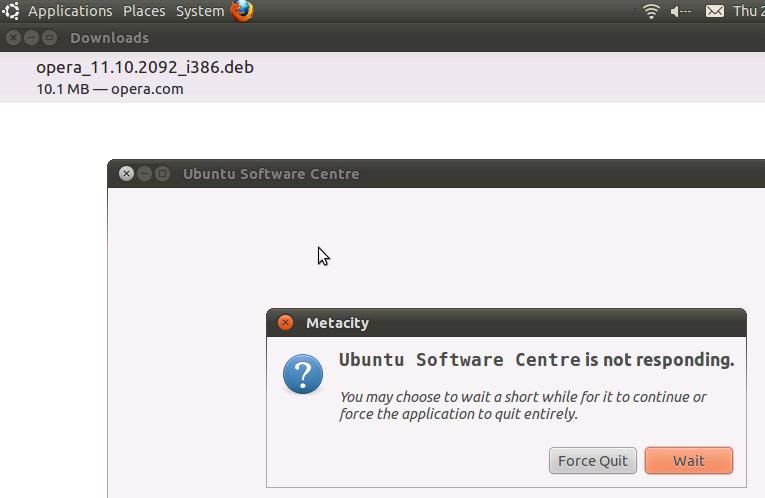 I decided to give it another go, and double clicked the 'deb' file in Firefox's downloads:
It seems there was some sort of existential issue. I will confess I was finding life a bit meaningless at this stage. To recap:
Trying Ubuntu's 'Netbook Edition' involved using over a gigabyte of my bandwidth allowance
The easy on the eye 'Netbook Edition' crashed as soon as I logged in
Installing flash wouldn't work
Downloading Thinkpad specific trackpoint drivers was an frustrating and futile exercise
So was installing Opera
I've by no means given up on Linux, but it will be a good few years before I try it again. I am glad, glad glad I didn't let Ubuntu anywhere near my proper hard drive.