[Update: this PIF has ended, and the Parker 51 tube is off to sunny Portugal! Thank you for all the positive feedback, entrants. Merry Christmas everyone!]
I've a PIF (Pay It Forward) giveaway live on the Fountain Pen Network,
ending at 8 p.m. ish GMT, Sunday 21st of December
. I've made a couple of "daily carry" pen tubes for Parker 51s, as photographed below, and giving one of them (the best made one) away. For a chance to win, just follow the link above to drop me a PM.
FMT pen tubes. Do you recognise the caps?
Excuse me while I Ctrl-V what I wrote on FPN earlier. Ah, here it is!
"I wanted to make something that would be good protection for a daily carry pen, small enough to toss in a day bag with the rest of your gear, but strong enough to ward off damage. The inside of a day bag at walking pace can be a surprisingly hostile place, with jangling keys, spare change, and a heavy laptop all ready to do their worst."
"The outside is a rigid PET plastic preform (approx 3mm thick), which is an excellent hard barrier against crushing, bending, twisting, scratching and cutting forces. Hostile synonyms are no match! Shattering - pah! Smashing - pishaw! Spiflicating - pish tosh!
The inside is lined with 3mm thick non-toxic, UV resistant closed cell soft foam (60 on the 00 shore scale), to absorb the stress of impact strikes and abrasion. To protect the 51's delicate celluloid jewels against the concentrated force of end on strikes, the top and bottom get 6mm of foam, lined in 100% silk.
The screw cap is a repurposed Diamine ink bottle cap. If you're going to make a pen tube, you may as well do it in style!"
The cap's silk lined interior. I wasted a tremendous amount of silk!
Why bother?
Well...here's the thing. I just don't get leather pen cases - those portable, 1-4 pen slot ones, have a look at
Pelahale
's excellent YouTube channel to see what I mean. Why are leather fountain pen cases so popular? It beats me hollow. Possibly the same reason impractically hot-in-the-summer, cold-in-the-winter leather jackets are popular; they look
great
...
But leather offers minimal protection from bashing or crushing, despite also being bulky enough to make me wince when I see a pen clip forced over it. The inside is much rougher than a cloth pen wrap too (I've one of
Alc3261
's cloth wraps, which gives great soft protection). Who wants to slide their vintage pen with 60+ year old plating & marginal imprints in and out of a strop every day? Not this fellow, I can tell you.
So... what's the point of leather pen cases? They've none of the "hard on the outside, soft on the inside" properties you'd think desirable. Those pen tubes Onoto sell, and to a lesser extent the cardboard tubes Retro51 ship their pens in, strike me as a better proposition. Both are lined with soft foam inside, and while I've never used an Onoto pen tube, the Retro51 shipping tube is surprisingly sturdy, despite its cardboard construction.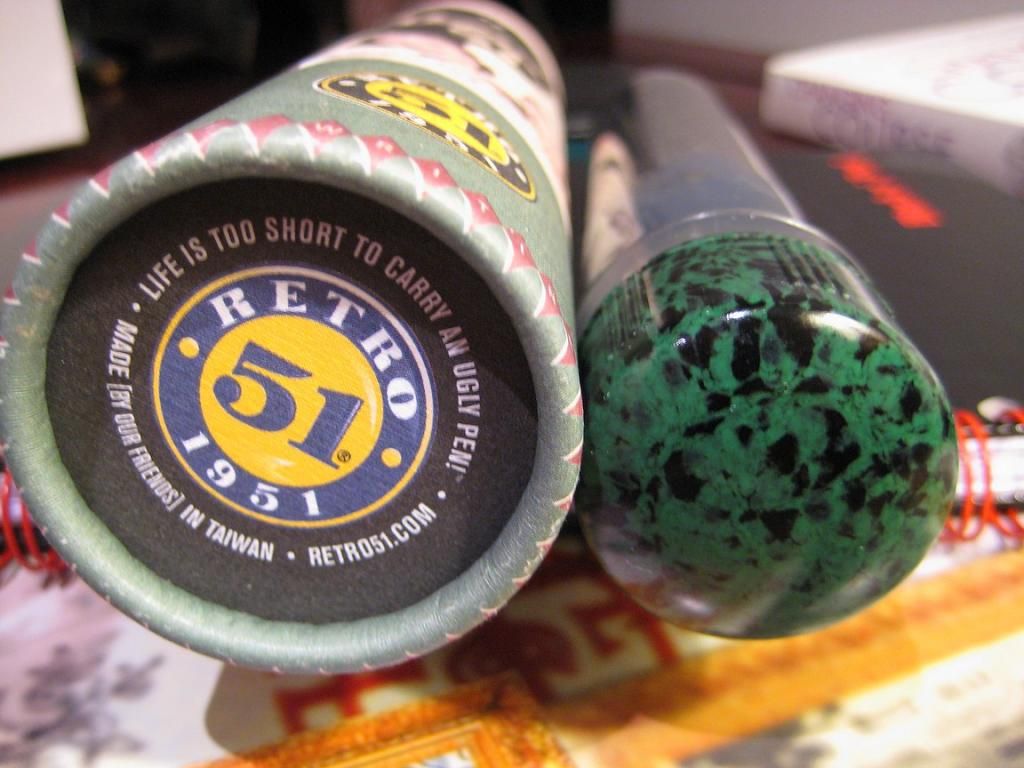 Size comparison with a Retro51 packaging tube.
Theirs was the righteous path to follow! I had wanted to make a decent daily carry pen case for a while;
the penny dropped when I realised that (1) those beautiful speckled Diamine ink bottle caps use a thread size universally prevalent in plastic soda and water bottle tops, and (2) those same bottles start out life as small 'parison tubes', lightweight and ultra strong. Huzzah!
The abortive, fully silk lined foam interior.
I don't know if all parison tubes are the same as those I bought; unfortunately, they are not pure cylinders on the inside, with a slight choke and flair. This scuppered my plans to line the interior throughout with silk - at least this time around... Still, the foam itself is very soft and giving.
I realise this is kind of an opinionated post. What do
you
think? Am I being unfair to leather cases? Talking out of my hat? Making with the funny stuff?
More photos: