From the time it leaves the factory, through its brief life meanly doling out that congealed treacle which makes our handwriting such a spidery chore, until its inevitable burial in an overflowing landfill, the ballpoint pen gives uniform dissatisfaction.
Until now! The humble ballpoint makes knocking together a vacumatic fountain pen a breeze. Its ink tube gives an excellent ramrod for the diaphragm pellet. Another piece makes a perfect pellet holder. The tip itself is perfect for connecting the pellet holder to the plunger rod. At a stroke, with no tooling at all, half the vacumatic assembly simply presents itself!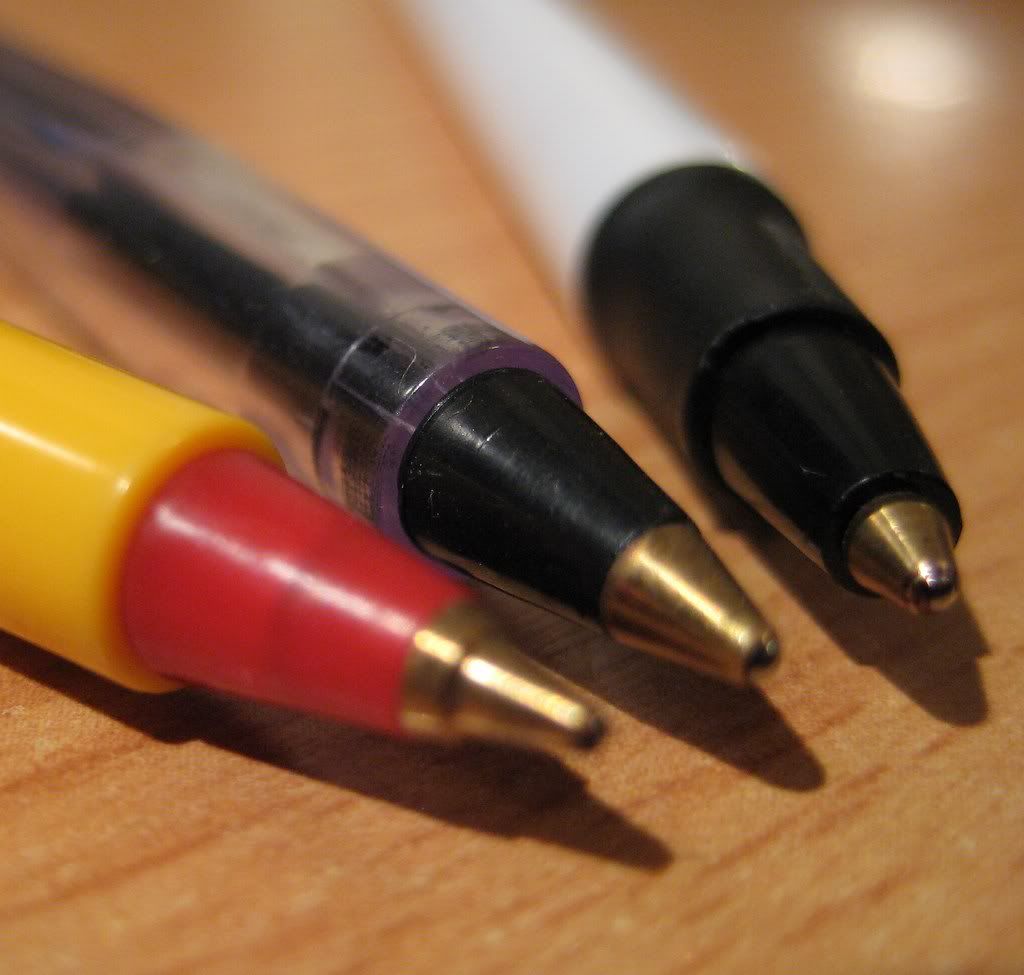 From left to right: Staedler 430F, Staedler 430M,
British Red Cross freebie.
Surprised? I was. Armed with an old ballpoint pen, a washer, a blind rivet, a bicycle tyre valve and an free aftershave sampler, all that is needed to complete the vacumatic assembly is the rubber diaphragm itself.
Parts Used (all prices include UK shipping)
An old ballpoint pen. This was a freebie from a British Red Cross mailshot. The Staedler Stick 430 seems to be a compatible design too.
A Dunlop/Woods bicycle valve, and its cap. £2.25 a pair at TemeCycles eBay shop.
A blind rivet, solely for its tang.
A free aftershave, eau de toilette, or perfume sampler, the mini spray type, for its tiny compression spring.
A vacumatic diaphragm, the large size (definitely not debutante size) £2.08 from Cathedral Pens.
The Hero 616 Jumbo uses a much larger vacumatic diaphragm than the Parker 51, as it lacks the latter's dedicated choked barrel chamber.
Tools Used
An unbranded mini drill, and the various cutting & sanding attachments they come with.
A cake of blank DVDs, to hold the curved barrel straight as I cut the blind cap. I don't have a mitre box and had to improvise!
A sharp, thin utility blade, I think it's the long Stanley type.
With the parts to hand, it was time to make a start on the conversion, beginning with the next post - "
Cutting the Blind Cap
".