In the last post, the clutch squeak was shown to be coming from a worn slave cylinder push rod. I had actually
packed
thick grease into the push rod ball joint socket, which shut it up for all of 6 presses of the clutch pedal. To be honest, if a squirt of silicone oil doesn't silence things permanently as in the previous post, don't bother opening up the assembly just to grease it up; it will probably be too far gone for lubrication alone to help. You may as well buy a replacement push rod (about £7 plus VAT from Honda) beforehand and be done with it, especially now the weather's turning.
Here's my old push rod on the right, next to its rubber gaiter. Notice the plastic collar on the push rod, which keeps the rubber gaiter from sliding forward when it's all put together, and the silver colour of the ball joint, where it has worn enough to squeak loudly.
The part number for the Generation 7 Honda Civic clutch slave cylinder push rod -and many other Honda models and years - is
46948S5A003
. My local dealership didn't have one in stock, and ordered one in for me the same week. One thing I noticed is that the old push rod seems to have been plated with something like brass - possibly to cut down on noise, before it wore away? - whereas the new one is unplated. I noticed the same cutbacks when I got a new oil sump drain plug too.
Small, aren't they? Maybe 7cm long. The face of the ball joint is about a centimetre in diameter.
Here's a macro shot of the two push rods' business ends. The old one is quite worn down and chewed.
This is after 63,000 miles. The car was first registered in 2003.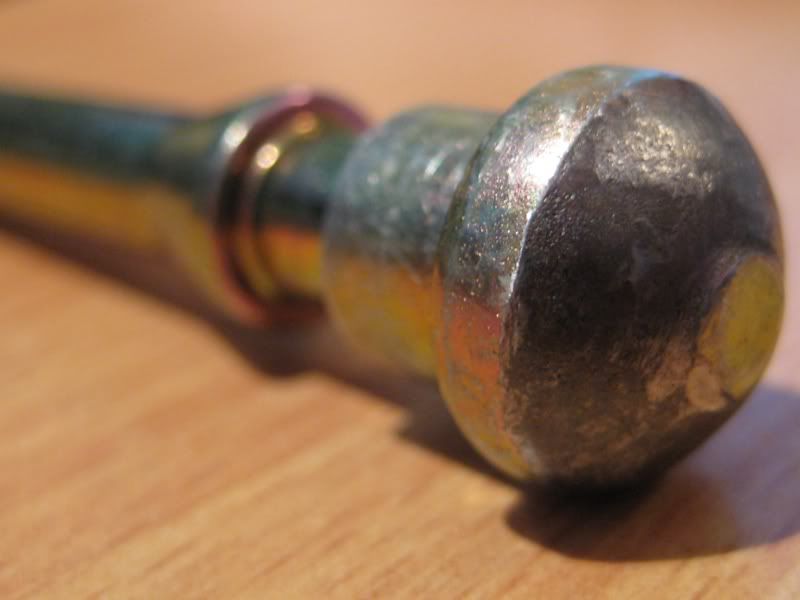 In the next post, photos of the swap process.