Parts & Tools
Kapow! Here's an exploded view of all the parts that the button filling 616 uses. Notice the absence of a press button - the blind cap (the barrel end piece on the extreme right)
is
the button here, and is not detached from the pen when it is time to refill the ink.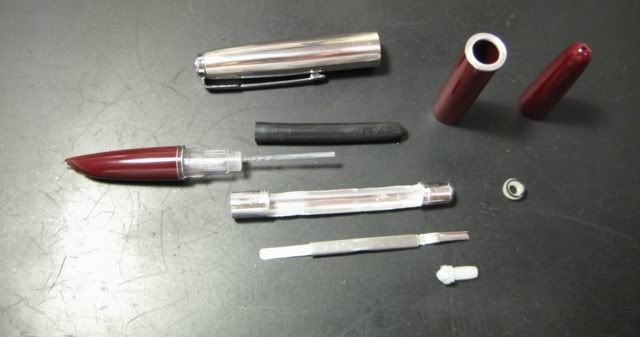 Parts Used (all prices include UK shipping)
A size 16 latex rubber ink sac - essential. This mod was almost scuppered trying, in my ignorance, to retain the factory fitted silicon sac, which is far too stiff for a pressure bar to compress. £1.56 from Cathedral Pens. I already had shellac to secure it and talc from Superdrug.
A small (6.6cm) button filler pressure bar. £4.74 from eBay seller Chillipea, ask for one that matches the auction listing photograph.
A pair of trim rings size 8mm inner and 12mm outer diameter. The only metal washers I could find that match this size were crush washers for car/bike hydraulics. I went for aluminium crush washers as they colour match the existing clutch rings better than copper. eBay shop Bargainbitz1 have packets of 10 for £1.25.
Tools Used
An unbranded X-Acto style craft knife.
A small pair of pliers.
An unbranded mini drill, and the various cutting & sanding attachments they come with.
A cake of blank DVDs, to hold the curved barrel straight as I cut the blind cap. I don't have a mitre box and had to improvise!
Sandpaper, any grade will do really.
A sharp, thin utility blade, I think it's the long Stanley type.
I look forward to seeing you in the next post, "
Cutting the Blind Cap
".