With the front cover off the phone, I could finally get rid of all the dust and trouser lint that somehow accumulated inside. You can see how much had gotten in, and that's just the cover. The screen, and the circuit board itself, were really filthy. I've no idea why, you'd think I was some kind of slob there was that much debris. None of my other gadgets have this problem. Notice the double sided tape surrounding the transparent area - it must have done a very poor job of sealing the cover to the the touchscreen for that many particles to pile up.
Keep the cover on a flat surface before wiping with a paper towel sprayed with window cleaner, or the transparent window could easily get pushed through the rest of the front cover.
Here's the state of the screen before cleaning - wipe with a paper towel sprayed with window cleaner. Don't spray window cleaner onto the screen and
then
wipe, to avoid short circuits on reassembly.
I was surprised to see the painted icons at the bottom of the touchscreen - it looks like homepage, contacts, messages, camera and PC connection. They're blanked off by the opaque part of the front cover, and aren't used. It makes me wonder what phone this touchscreen was originally designed for?
The flimsy 4 contact painted ribbon at the bottom left corner of the touchscreen is the one to pull if you're replacing a broken screen. As mine only needed cleaning, I didn't chance disturbing it and potentially damaging the ribbon. If you are changing your touchscreen, you are on your own for this step, sorry. After I cleaned the screen and circuit board, it was time to put the phone back together.
In a reversal of the disassembly, press the bottom cover clip (arrowed) first, followed by the middle and top clips:
Do the same for the other side of the phone, then pop the top screws back in their slots. Remember not to use to much force tightening them, as you're screwing metal into plastic.
Slide the SIM card(s) into position. To reinstall the memory card, place it into its keyed slot, close the metal hinge over it, and slide the metal hinge up (towards the on/off switch).
Place the battery in position (it will only fit in one way) and fit the battery cover by placing it over the battery, then pushing it down (away from the on/off switch) till it clicks into position.
The result: A dust free screen, worthy of Kolokotronis.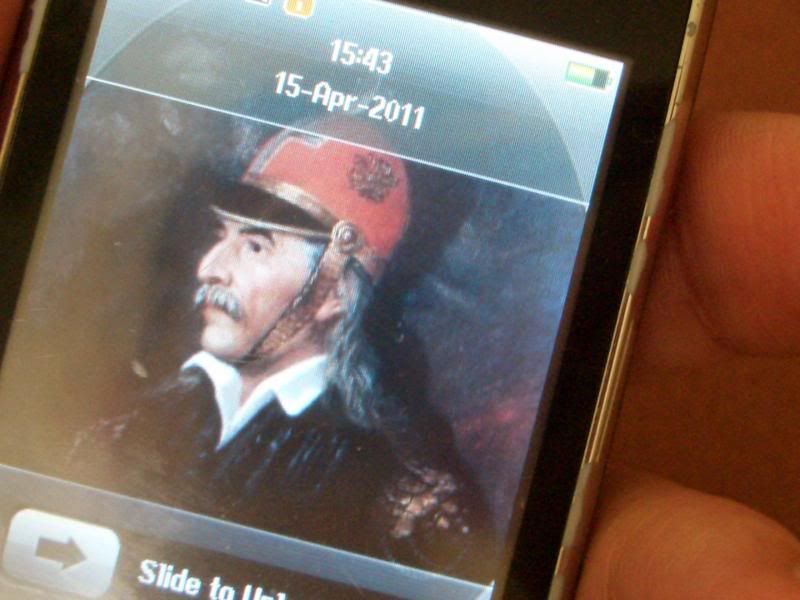 This guide is dedicated to all right - headed patriots everywhere.