[10th March Update - Richard's whipped up a fresh batch of finials, available from the FPN classifieds]
Remember the Kaigelu 316, bargain priced Duofold style pen first discussed here
back in March
? I'm revisiting the topic today because I've just received a couple of spare parts that boost the classy Kaigelu's tactile writing experience straight up the express elevator to nimbus 9.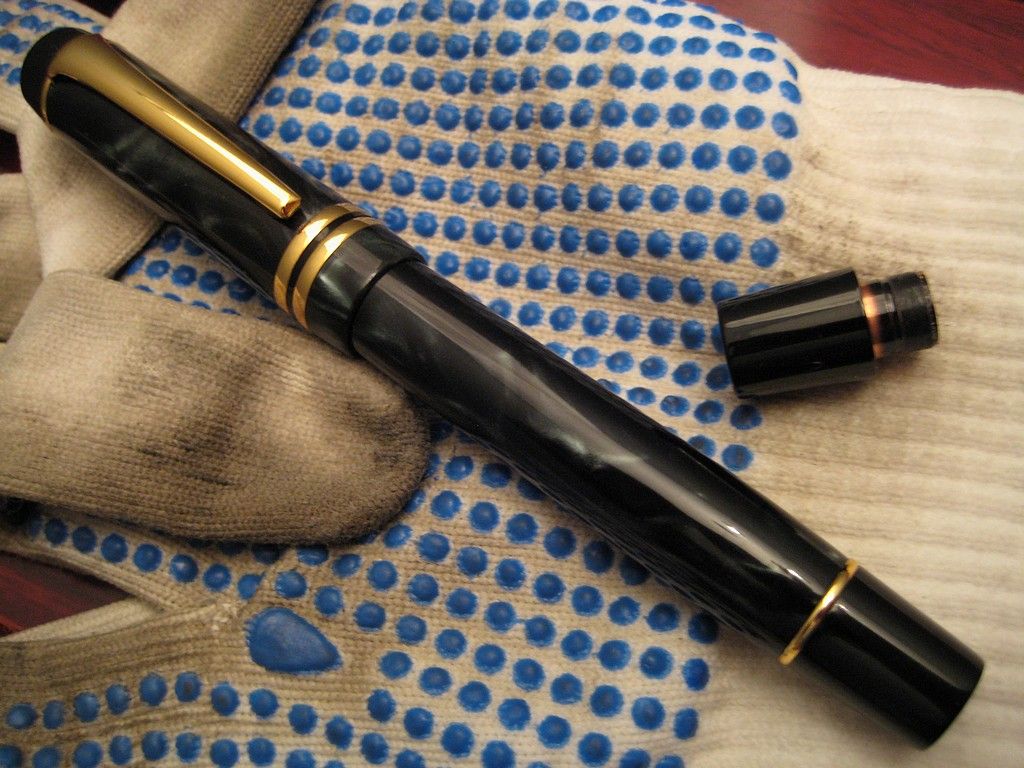 A Kaigelu 316 with acrylic finial fitted,
brass original in background.
As standard, the 316 has a peculiarly back weighted balance. This is due to the brass finial at the end of the barrel. For short notes, it's not noticable enough to be a concern; for flat out, long writing sessions, I've found that finial to become an irksome pendulum, progressively making my handwriting more sloppy. The simple solution is a lighter replacement finial made of plastic, which completely transforms the balance into something more comfortable, and far more enjoyable to write with.
I say 'simple' solution, because this is my favourite mod yet - one where the tricky stuff has been done for me! The finial was custom turned for me by richardandtracy, one of the forum moderators over at
fountainpennetwork.com.
The swap was pretty easy going:
1. Pour a little water just off the boil into the barrel, to loosen the glue holding the finial in place.
2. Make a cup of tea, to give the glue time to loosen.
3. Give the finial a wiggle to help the bond break, then pull it out. I used a pair of spark plug pliers*.
4. Shellac the replacement finial in.
Brewing a nice cup of Kaigelu.
The finials (I bought two) are really well made, and nicely polished too. Feeling slightly miffed at my lack of involvement, I consoled myself with boring out the finial, so that the barrel could still accomodate two short international cartridges back-to-back, or one long international cart.
By boring out the finial spigot, the Kaigelu's barrel
can still accept those long bendy International carts.
Let's round things off with a poorly composed and executed close up, showing a comparison of the plastic finial and painted brass factory original. It's as well made as it looks.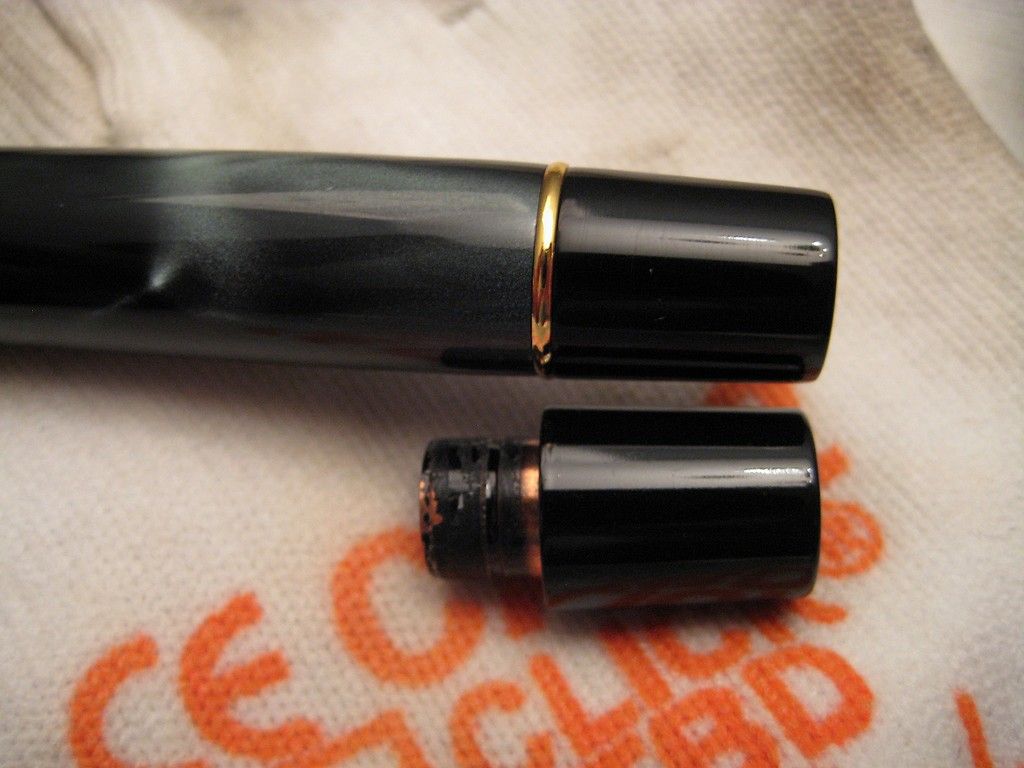 The acrylic plastic finial fitted to barrel, looking as good
as the original, and weighing much less.
Ciao for now!
Flounder
*Now that they've seen actual, bona fide use under a car bonnet, I'm going to forgo the term 'section pliers'.