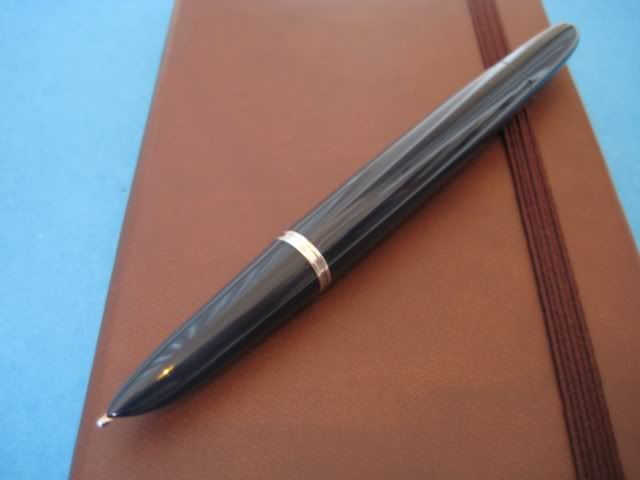 The aim of this post is to show a few windfalls and pitfalls of picking up a vintage pen at auction, rather than going the safer route of buying from a professional restorer.
For a good while now, I've been after a Parker 51, specifically a Vacumatic in Cedar Blue, with at least a medium nib. Hero's 616 has impressed me so much, despite the lack of nib sizes and flimsy thin plastic, that I thought the time was right to find the lucite bodied masterpiece that inspired it, with a nib that better suited my handwriting - something to keep for years. I had too many good pens I wasn't using, and all in a condition I hoped would sell well enough to fund a pared down "collection" of just a handful of classics, a vac 51 among them.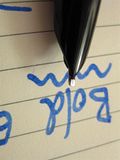 Sell they did! Admittedly, I soon became discouraged by the search, lost patience and found a bold nibbed (and very fresh) Aeromatic 51 at a good price, this will also go off to eBay now the vac is here. Overall, after a weekend of tinkering, it's not a bad example. It is exactly what I wanted, a cedar blue vacumatic 51, with a nib comparable in size to a modern medium Parker Frontier's. As an added bonus, it has a fresh diaphragm.
First, the bad news. Although the body was described as in excellent condition in the eBay listing, there is a tiny chip in the barrel lip where it meets the clutch ring.
A small barrel chip near the clutch ring
.
This gave me some concern, to the best of my knowledge in a vacumatic the barrel cavity acts as a single-walled ink tank. If the chip grows, bad news. In the end, the seller gave me a choice between a partial discount and swapping it for another vac 51. Sadly, no photos of this alternative were forthcoming so I accepted the discount and stuck with this one. I'm hoping the lucite holds up!
Now that's out of the way, happily the rest of the pen had plenty of potential. Without the vacumatic diaphragm to worry about, getting this pen in good fettle was a pleasure. In the course of tinkering, I found out this is a Canadian made pen, manufactured in 1948, it's always nice to find out these wee details.
In the next couple of posts, I attend to the 51's workings under the hood, and the ill-treated cap. Come join me!