The Cap
It's a rolled silver cap, with what I think is a silver plated clip, longer than my Aeromatic's and with more feathers. Perhaps not the original cap (or even this cap's original clip?), I nevertheless find it tremedously appealling, with a warm shine and a sort of careworn, blasted majesty.
On arrival, I was very disappointed with the state of the cap. I'm not a natural cynic, and "some wear to the cap" is a fairly subjective term. In my book it doesn't cover a badly bent clip, fitted back to front. On a minor note,
what
was that wedged behind one of the clutch fingers? Brasso wadding?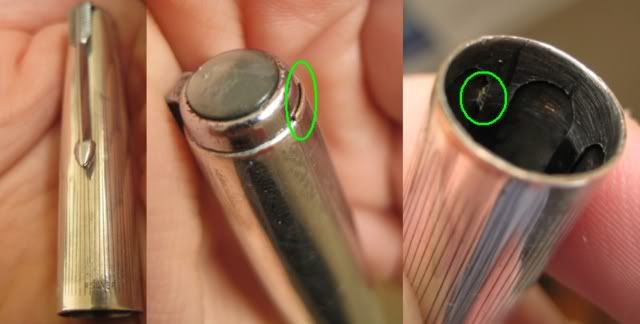 Prior to fettling, the bent clip, exposed clip tab, and cap lip oddness.
After washing out decades of dried blue ink, I set about with gentle heat and blutack to unscrew the grey jewel. To my surprise it brought the brass bush beneath with it. They are bonded together with something so strong that it defied all efforts with heat, spirits, penetrating oil and torque. I gave up on seperating the two lest I shear off the jewel from its shaft, and decided to simply use blutack to tighten the fused jewel and brass screw securely against the clip when I was finished working on the cap.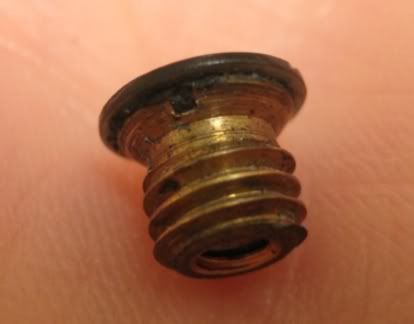 These two really don't want to be seperated!
After some heat, gentle persuasion, and patience, here's the straightened clip on the reassembled and lightly polished cap. I used a diluted silver polish, to keep some of the patina while removing tarnish (I don't like it staining my clothes).
Clip straightened, cap washed out, polished, and reassembled. 2nd photo - 616 cap in background.

You can certainly see where Hero took their inspiration in the 616 cap's design! The clutches are also very similar, and the caps are interchangable between the two pens pictured above. The engraved lines on the Parker converge at the top of the cap.
Closing Mindthots
... well, there you have it, so far as I have gone tinkering. At some stage, I would like to address the blind cap's strange, semi transparent ring, but for now I'm just enjoying the use of this old classic. Overall, I'm happy with how this eBay purchase has worked out, with a expectations/reality balance that gave me a few tasks to relish, uncovered some of the pen's history, and left me in a bright mood.