Here's a post I've been looking forward to writing! After about two weeks of use, I'd like to write up a review of the Parnis 'Power Reserve' wristwatch. This is another Internet sourced Chinese brand, like the cheap and cheerful
Jaragars
I've previously blogged about. At 47 GBP (73 USD), including delivery, this Parnis is in a different price bracket - though still parsecs away from from that of most mechanical watches.
So here it is; a hacking, self-winding mechanical wristwatch, with a mainspring power reserve indicator (measured in hours) and sub seconds dial. I'll try to condense an enjoyable fortnight's worth of impressions, tweaks, photos, and footage to the essentials.
The Parnis Power Reserve, also known as the 'Portuguese' model.
The odd moire effect on the sub dials in the photo above seems to be a result of the small picture size; as a cure all, "click to zoom" is available for every image. The concentric sub dial rings are represented far more realistically at the larger size.
From the start
, let me say this will be no mash note, I'd be remiss to skip over a few notable bumps along the way before getting an example I was happy with. For easy digestion, I'll divide this review into the following themes: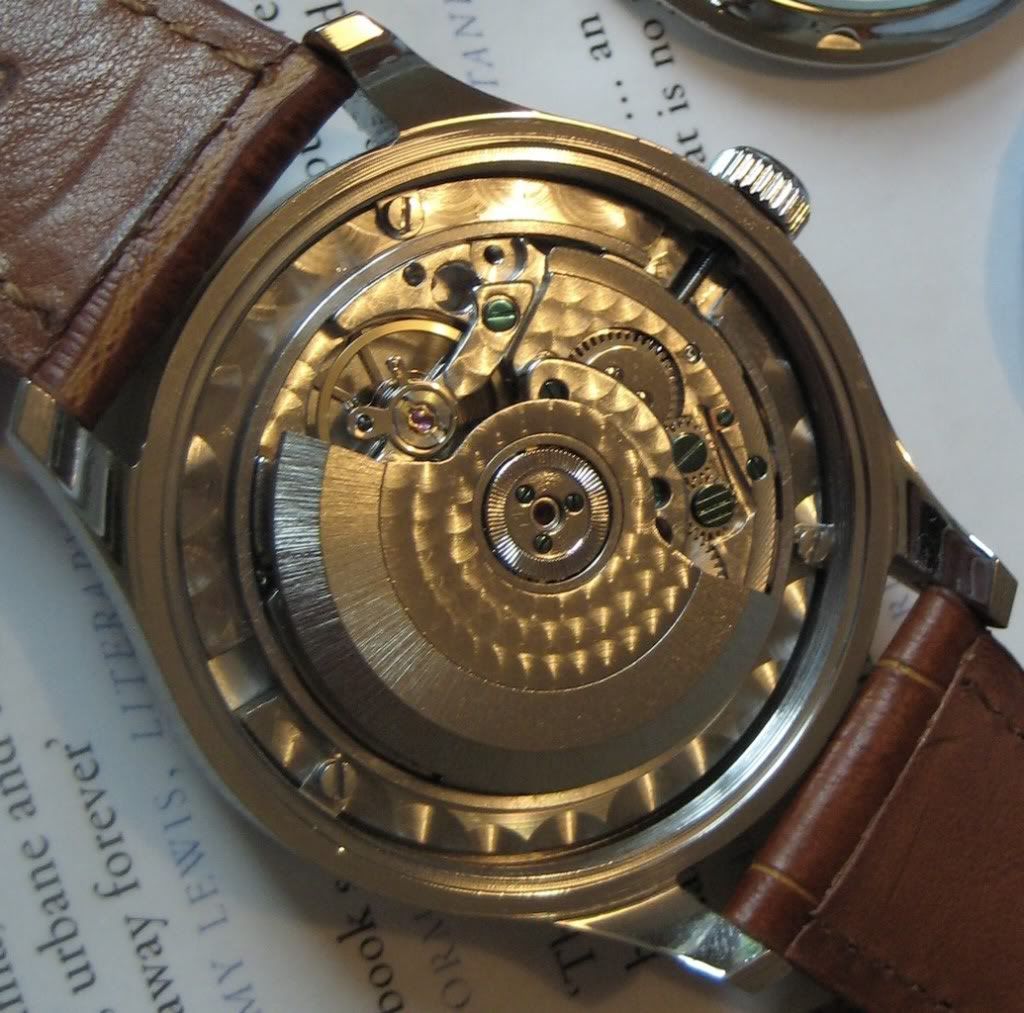 The movement is shown off with a large glass exhibition case, which I've removed here to get the rotor decoration in focus!
This Introduction
- Some background about the "brand", the Grand Unboxing (that's all the rage these days, right?), my experience of shipping times and the seller's aftersales & returns process. Scroll down to read on, or click the sub headings to skip past.
Main Highlights
- What to expect when the parcel arrives. How the Parnis wears, its looks, materials used, proportions, weight, and the movement's capabilities. What's great about the Parnis, and what's not.
Power Reserve Feature Focus
- A more detailed look at the Parnis' power reserve, and a test of the PR indicator dial's accuracy.
Improvements
- If you've stopped by this blog before, you'll know I can't leave things alone. Fitting decent watchstrap spring bars, greasing the loud winding rotor's bearings (this includes short before and after clips), and regulating the movement.
Thanks, No Thanks!
- References for the external site links used in this review.
Now read on...
I've no idea how "Parnis" watches first came into being. Maybe someday the
Internet Archive
will support keyword searching and offer up a clue. As good an answer as any is "The same way Jaragar did, or AK Homme, or Winner, and all the other mushroom brands". As things stand, the brand is churned out by a nebulous confederacy of anonymous factories, and sold through eBay and some China based online retailers.
Of these, I went for a popular retailer, as they've been around for a while and offer a year's warranty. I don't want to delve into this subject too much, as the purpose of this post is to review the watch, not the seller I bought it from...
Packaging was excellent; the Parnis arrived in a thick polystyrene case.
In short, after a protracted delay while the seller checked the warehouse for a decent example, the first watch I was sent had an obvious flaw in the dial printing; they agreed to a sensible suggestion not to post a replacement until sending a photo, then ignored it; they specifically asked that the faulty watch be returned by signed for post (20% of the watch's cost), saying this would be refunded; it took many weeks, repeated emails, and a scanned receipt for this refund to (partially) appear.
A length of bubble wrap was wound around the watch itself.
Having gone through their returns process, I wouldn't consider dealing with them again. In fairness, the packaging they use is excellent, and should prevent any transit breakages, and the replacement sent is much better. It was suggested to me on the
watchuseek
forum that retailers that sell
Parnis watches exclusively
would have more to lose from poor service, and I'd keep this in mind if I wanted to buy another Parnis.
Shipping times:
After ordering, the faulty first Parnis took just
8 days to ship from China to Scotland.
Returning the faulty Parnis (using the Royal Mail's international signed for small packets service) took
11 days from Scotland to China.
The replacement Parnis took just
7 days to ship from China to Scotland
.
The Parnis had clear film over both crystals, and a final plastic sleeve.
Hopefully the logistical rigmarole I went through above gives a helpful example to potential Parnis owners of what to expect during the purchase and return of these watches. In the
next post
, impressions of the replacement Parnis after about a fortnight of use.